The product has been added to cart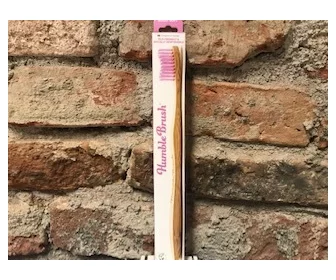 CHILDREN'S MOV TOOTHBRUSH
SKU Code: 15046
€5.18
CHILDREN'S MOV TOOTHBRUSH
The price includes VAT
the cost will be emailed to you after placing the order
Description
Toothbrush for children from bamboo grown without fertilizer or pesticides.
Biodegradable nylon.
The shape of the toothbrush is carefully finished and designed by dentists.
Strict oral hygiene has beneficial effects on the health of the body and well-being in general.
Humble Co. create products that are healthy for you at the same time and protect the planet.
Did you know that 3.6 trillion plastic toothbrushes are created annually and eventually reach the oceans?
Unlike ordinary plastic toothbrushes, Humble Brush has a handle made of 100% biodegradable bamboo , and the brushes are made of recyclable nylon, high quality, which decomposes 20 times faster than any polyester element normal.
Bamboo is a natural resource that grows and grows very fast, a symbol of Chinese wisdom, representing hardness, endurance, but also the ability to give in and still remain in position. It is a universal raw material, and its therapeutic qualities are recognized by traditional Chinese medicine. It is a gift offered by nature, easily renewable and very popular due to its flexibility, ecological properties and elegance.
Bamboo has natural antibacterial properties, which means that there is no need to use fertilizers or pesticides during its cultivation.
100% Organic toothbrush, with bamboo handle and brushes created especially from biodegradable nylon.
Certification and verification of BPA free, Vegan, Cruelty-free.
"Go Humble, Give Smiles" goes further by funding projects for children in need.
Humble Smile Foundation offers professional and sustainable healthcare projects worldwide, funded directly by your acquisitions.
Many children will never have oral care products and we are close to depleting natural resources, but unfortunately we are filling the oceans with used products that are not biodegradable.
Can we change our ways of production and consumption? Can we help provide oral care products for those who need it most? The answer is yes!
As a dentist, Humble co. was founded to create products that are good for you and nature for our planet. Every Humble acquisition goes to funding projects for the benefit of the children who really need it.
Join the movement. Be the switch. GO Humble.