The product has been added to cart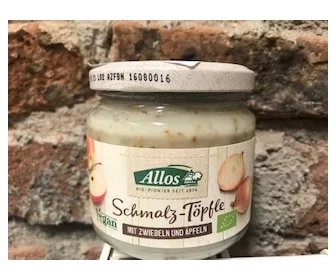 ECO VEGETABLE OIL WITH GLUTEN-FREE ONION AND APPLE 150 GR
SKU Code: 16415
€5.63
ECO VEGETABLE OIL WITH GLUTEN-FREE ONION AND APPLE 150 GR
The price includes VAT
the cost will be emailed to you after placing the order
Description
ingredients:
vegetable fat * 79% (palm oil *, palm fat *, coconut fat *), onion * fried 4%, sunflower oil *, dried apple 2%, sea salt.
* come from organic farming
Allos Schmalz-Töpfle, is an exclusively herbal alternative to lard, refined with apples and onions. Unmistakably delicious, versatile and ideal for the vegan lifestyle.
Exclusively made from non-woven vegetable fats and valuable sunflower oils.
Nutritional values:
kj : 3389
kcal : 824
fat : 89g
saturated fatty acids : 48g
carbohydrates : 4.4g
sugars : 2.0g
protein : 0.8g
salt : 2.1g
* - recommended daily dose