The product has been added to cart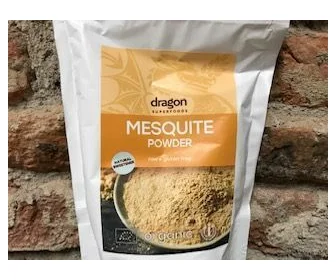 ECO MESQUITE 200 GR
SKU Code: 9155
€6.76
ECO MESQUITE 200 GR
The price includes VAT
the cost will be emailed to you after placing the order
Description
Mesquite powder is a natural sweetener, has a sweet aroma similar to caramel and a glycemic index 25 times lower than sugar.
This, together with the rich dietary fiber content, recommends mesquite powder to maintain an optimal blood sugar level, which can also be consumed by diabetics.
Mesquite powder comes from the grinding of the Mesquite plant (Prosopis pallida) and has been used since ancient times as a natural sweetener by Native Americans. Basically, the seeds of the plant are ground and thus the powder is made. It can be used as a sweetener or to give a delicate caramel flavor to raw recipes, but also to traditional ones.
Mesquite powder does not contain gluten and is a good source of calcium, iron, lysine, manganese, zinc and potassium.
Rich in protein
Helps lower glycemic index
Good source of soluble fiber
Good source of calcium
Vegetarian
No GMOs
Gluten free
Lactose free
Suitable for diabetics
ingredients:
100% mesquite powder from organic farming
Way of ussage:
It can be added to bread or pastry recipes, pancakes, muffins, cakes and cakes. It can also be added over french fries, omelettes, soups or ice cream.
Certified organic product.
Country of origin: Peru
---
Recipe balls with cocoa and mesquite powder
1 cup walnuts
¼ cane of raw cocoa powder
¼ mesquite powder
Easca cup of goji berries
½ cup of raisins
Soak the goji berries for about 5 minutes to soften. Add in a blender nuts, cocoa powder and mesquite powder. Add raisins and soaked goji berries; Blend until a soft dough is formed. Form small balls of this composition and refrigerate for about an hour. Good appetite!