The product has been added to cart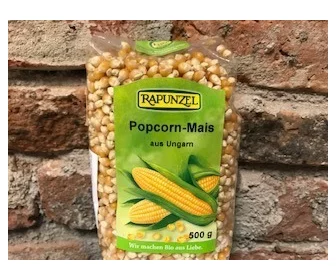 ECO POPCORN CORN 500 GR
SKU Code: 10408
€3.38
ECO POPCORN CORN 500 GR
The price includes VAT
the cost will be emailed to you after placing the order
Do you have any questions? Contact us!

+40264.406.405

MONDAY-FRIDAY
LUNI-VINERI 08:00 - 18:00

SATURDAY
SAMBATA 09:00 - 14:00
Description
ingredients:
Corn grain.
The ingredients come 100% from organic farming.

Description:
Classic sweet or salty popcorn, corn on the cob is a delicious snack for everyone.
Easy and healthy snack between meals.
Preparation:
Heat 2-3 tablespoons of Rapunzel coconut oil in a saucepan. Add 100 g Rapunzel cornstarch and close the lid. As soon as the corn rises, reduce it from the flame. When the "popp" sound stops, remove the bowl from the pan and salt the popcorn or sweeten it with Rapunzel Rapadura whole cane sugar.

Use:
Instant popcorn, great joy for children and adults.
Nutritional values:
saturated fatty acids
: 0.63g
* - recommended daily dose